I'm going to cut right to the chase: home inspectors are not required to move ceiling panels. There. You can stop reading now and go about your day if you're only looking for the answer to this question.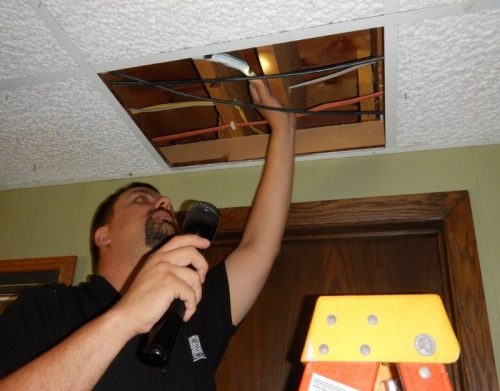 And now the long answer. As much as I hate to admit this, not every one of our clients is happy with our service. We do get complaints, and we usually settle them amicably. We don't want unhappy customers, so we go out of our way to make sure we don't have them. I renewed our company's focus on happy customers and excellent customer service about two years ago, after reading Delivering Happiness: A Path to Profits, Passion, and Purpose. The author, Tony Hsieh, founded Zappos and sold it to Amazon in 2009 for over $1.2 billion. A large part of the success of Zappos was a focus on making customers happy.
A recent complaint
We recently had a client hire us to inspect a 95-year-old home in Saint Paul. It was a long inspection and we wrote a long inspection report, filled with recommendations for maintenance, repairs, and safety upgrades. While we encourage all of our clients to attend the home inspection, this client either could not or chose not to attend.
One of the items that we listed in our inspection report was the presence of some two-prong outlets. While the presence of two-prong outlets is not a defect, it does indicate older wiring that won't accommodate a three-prong plug. We made a recommendation to consider upgrading to three-prong outlets, along with a link to my blog post that describes the process involved in doing this: http://structuretech1.com/converting-two-prong-outlets/.
After buying the home, the new owner hired an electrician to upgrade these two-prong outlets. The electrician determined that there was a small amount of knob & tube wiring present in the ceiling of the basement, which is likely why the two-prong outlets had never been upgraded. This was discovered after removing basement ceiling tiles in a basement with very low headroom; so low that the ceiling tiles were nearly impossible to remove. In fact, the existing ceiling tiles got mangled in the process of being removed; thankfully not by us.
Our client contacted us after this, very upset that we had not identified the presence of knob & tube wiring above the dropped ceiling in the basement. In this particular case, discovering the knob and tube wiring would have required a great deal of luck and ninja-like skills in lifting one of the three available panels that gave access to the knob and tube wiring.
Is it reasonable to expect that we should have found this wiring?
Home Inspection Standards of Practice and ceiling panels
First, let's take a look at home inspection Standards of Practice (SOP), starting with the SOP set forth by the American Society of Home Inspectors. Section 2.2.A says that the inspector shall "inspect readily accessible, visually observable, installed systems and components listed in this Standard." Section 13.2.A.1 says that the inspector is NOT required to determine "the condition of systems and components that are not readily accessible."
This term readily accessible sounds pretty important, yes? The same standard defines readily accessible as "Available for visual inspection without requiring moving of personal property, dismantling, destructive measures, or actions that will likely involve risk to persons or property."
As I and many other home inspectors will attest, moving ceiling panels unquestionably involves risk to the ceiling panels themselves. I've broken them and had to replace them, and it makes for a bad day. In other words, moving a ceiling panel involves risk to persons or property, so the ASHI SOP does not require this.
The other large organization for home inspectors, InterNACHI, has similar language in their SOP. Readily accessible is defined as "A system or component that, in the judgment of the inspector, is capable of being safely observed without the removal of obstacles, detachment or disengagement of connecting or securing devices, or other unsafe or difficult procedures to gain access."
Home Inspection Best Practice
While home inspection Standards of Practice do not require home inspectors to move ceiling panels on dropped ceilings, does this mean they shouldn't? No. I've long joked that dropped ceilings were invented for the sole purpose of hiding electrical defects. I move ceiling panels all the time, provided I can easily lift them and easily drop them back into place. Here are a few fun defects that we've found. No explanations needed, right?
I did a quick informal poll on a home inspector Facebook group, asking if home inspectors lift ceiling panels. Over 92% of the respondents said they lift ceiling tiles. Over half of that group said they always lift ceiling tiles in a few strategic locations, and the rest of that group said they do it when they have good reason to.
In short, I believe it's good practice for home inspectors to lift dropped ceiling panels, and most probably do, but this is not a requirement.
Author: Reuben Saltzman, Structure Tech Home Inspections