Reuben Saltzman | Neil Saltzman | Barry Eliason | Milind Angolkar | George Ury | Nick Pickert | Wayne Rademacher | Dustin Wiebold | Bill Oelrich | Jim Tobias | Tessa Murry | Matt Behrens | Sean Patterson | Joe Westerlund | Bryan Scholtes | Bryce Klym | Jeff Corniea | Corey Colburn | Eric Houseman | Patrick Brennan | Antonio Cedillo | John Fitzgerald | Lisa Norbeck | Mindy Barnhill | Rick Norling | Peter Schilling | Bethany Weber
Barry Eliason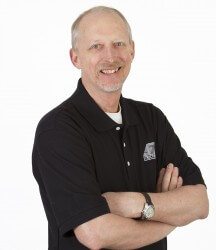 Barry's professional journey began with the 1973 oil embargo. Barry realized the importance of energy conservation and energy self-sufficiency and began to study architecture, construction technology, and home energy conservation. After working for a few years as an energy auditor he studied and learned about home inspections. In 1990 he started his own home inspection company, Private Eye Inc.
In the late 90's Barry started hearing about moisture problems in newer, stucco-clad houses around the country. He recommended moisture testing to his home inspection clients but discovered there was no such service available in the Twin Cities. Sensing a business opportunity he received training in moisture intrusion testing and began adding moisture testing as an additional service. Much to his surprise, about 90% of the stucco homes built after the mid 80's that he tested were positive for moisture intrusion.
Since then, Private Eye has tested thousands of homes for moisture. Although many of the earlier problems have been corrected in homes built today, there is still an unacceptable failure rate in stucco homes. Barry continues to be the local authority on moisture intrusion issues and has been included in multiple TV and newspaper stories. He speaks at realtor education meetings and home inspector conferences on the subject of moisture intrusion and moisture intrusion testing.
In 2014 Barry merged Private Eye with Structure Tech. Through Structure Tech Barry continues to perform home inspections and moisture testing as well as training for the next generation of home inspectors.
Barry lives in New Brighton with his wife Sandra. He is fortunate that his three grown daughters and five grandchildren all live close by. He likes to spend time with them all at the lake where he also enjoys fishing and driving his homemade solar powered pontoon. Barry is an avid cross-country skier and has completed many ski marathons including the Mora Vasaloppet and the Hayward, WI Birkebiner. In recent years he has gotten more serious about learning the guitar and plans to become a rock star in his next life.

Professional Qualifications / Memberships:
ASHI Certified Inspector
Licensed Saint Paul Truth-In-Sale of Housing Evaluator
Licensed Minneapolis Truth-In-Sale of Housing Evaluator
Licensed Maplewood Truth-In-Sale of Housing Evaluator
EDI Certified Building Envelope Inspector, #MN-12
Certified Environmental Risk Assessor
Advanced Training Certification for Stucco Pro Moisture Scan Testing Protocol
Certificate of Completion number 1112, MoistureFree Warranty Inspection and Repair Training
Certified Building Science Thermographer
Level 1 EIFS inspector
Level 2 Building Envelope Inspector
Affiliate Member, Saint Paul Area Association of Realtors