There is a change to the Minnesota Energy Code that took effect over a year ago, which now requires attic access hatches to be weather-stripped. I think that's just peachy. I've never liked how attic access hatches are sealed on new construction homes, because it's usually a piece of drywall set down on top of a framed-out drywall opening with a little mud or spray covering the seam, which is deemed a "seal". I've complained blogged about these many times, mostly because the attic is an important part of a home inspection, and if the home inspector can't get into the attic because someone is freaked out about breaking this "seal", the attic doesn't get inspected.
The part of the new energy code that requires weather-stripping at the attic access hatch is section R402.2.4, which says "Access doors from conditioned spaces to unconditioned spaces (e.g., attics and crawl spaces) shall be weather-stripped and insulated to a level equivalent to the insulation on the surrounding surfaces."
This makes sense, right? The attic access hatch is there for the attic to be accessed. Unfortunately, this new requirement isn't being enforced anywhere in Minnesota… at least not that I've seen. In fact, none of the home inspectors in my company have. So how can it be that this new requirement is being completely ignored? Beats me. When I learned of this new provision, I contacted Donald Sivigny, State Energy Specialist at the Construction Codes and Licensing Division at the state to get his two cents on the matter. His comment was that the code requires exactly what it says; the attic access hatch needs to be weather-stripped. Not sealed. It seems pretty straightforward to me.
I've asked building officials about what this new requirement means and how they're enforcing it, and they're simply ignoring it. I actually stopped by the building inspections department at one city, and had two building officials rhetorically ask me "what's weather-stripping?" They basically said that because this code section is not specific enough, they're simply ignoring it and allowing builders to spray attic hatches shut, the same way they always have. Other building officials I've talked to weren't aware of this new requirement.
If you're buying a new construction home and the construction permit was pulled on or after 2/14/15, the attic access panel is supposed to be weather-stripped. If it isn't, I recommend asking your builder and the building official why it isn't. For anyone who says that there is not a great way to weather-strip an attic access panel, I say try harder. There are products made just for this. Buy them or invent your own, but don't say it can't be done.
One such product is the SkuttleTight All-In-One Attic Access System, which sells for about $150. Not only does it provide a great seal, but it's also the best looking attic access panel I've ever seen. I've seen these installed in a few different homes, and I think they're fantastic.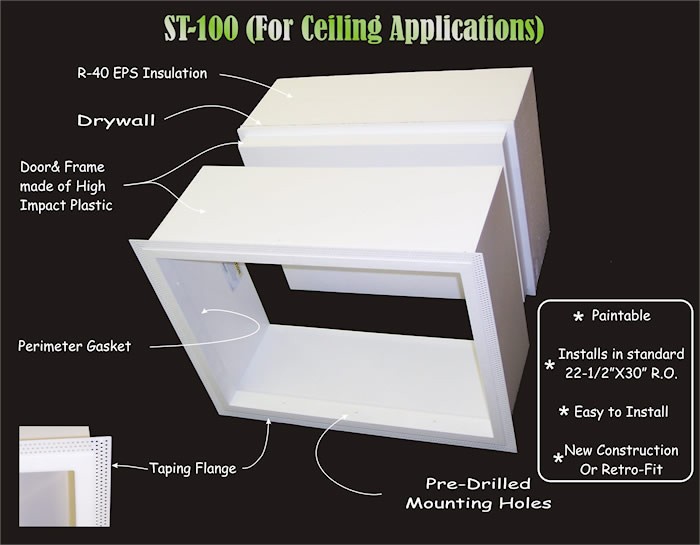 While this only provides  R-40 and the code technically requires R-44, I say this difference won't amount to squat. A 1-inch thick piece of rigid foam could be added to the top of this if Minnesota building officials want to be super nit-picky about this, but I don't see that happening.
Another similar product is the Battic Door E-Z Hatch Attic Access Door, which sells for $200 or $250 for the R-42 or R-50. I haven't seen any of these in person, but I like their style.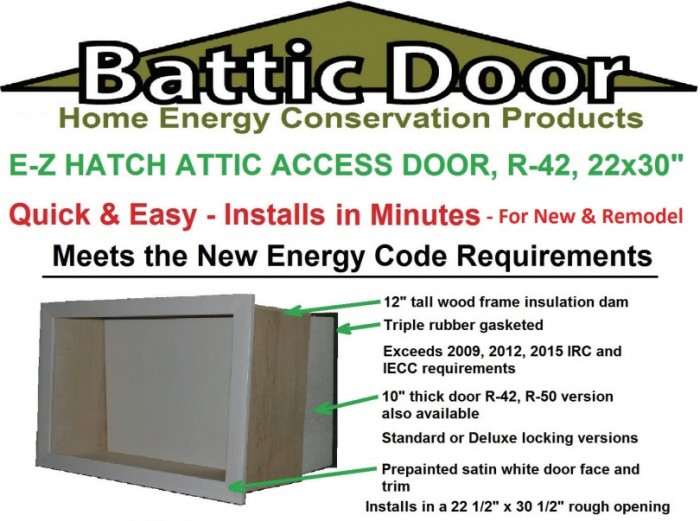 Yet another product is the TrimRite Tru Seal Attic Access, shown in the video below.
The web site for this product is http://www.trimritemfg.ca/, but they don't have this product listed on their web site yet.
If you know of other attic access solutions, send me the info and I'll share them here.
Author: Reuben Saltzman, Structure Tech Home Inspections